Base on Xi'an
Xi'an is the start of the ancient Silk Road which locates in the geometric center of China's map with the logistics advantage of collection and distribution.With the implementation of the ' Belt and Road Initiative'Xi'an has became an important strategic hub on the Silk Road economic belt which connects Europe and Asia,East and West,South and North.To Accelerate the business layout and promote cross-border logistics business , City Union set up Xi'an City Union Multimodal Transport Co., Ltd., in early 2019. City Union Xi'an offers block train service to Europe,Central Asia,Russia and other countries, multimodal transport and other value-added service.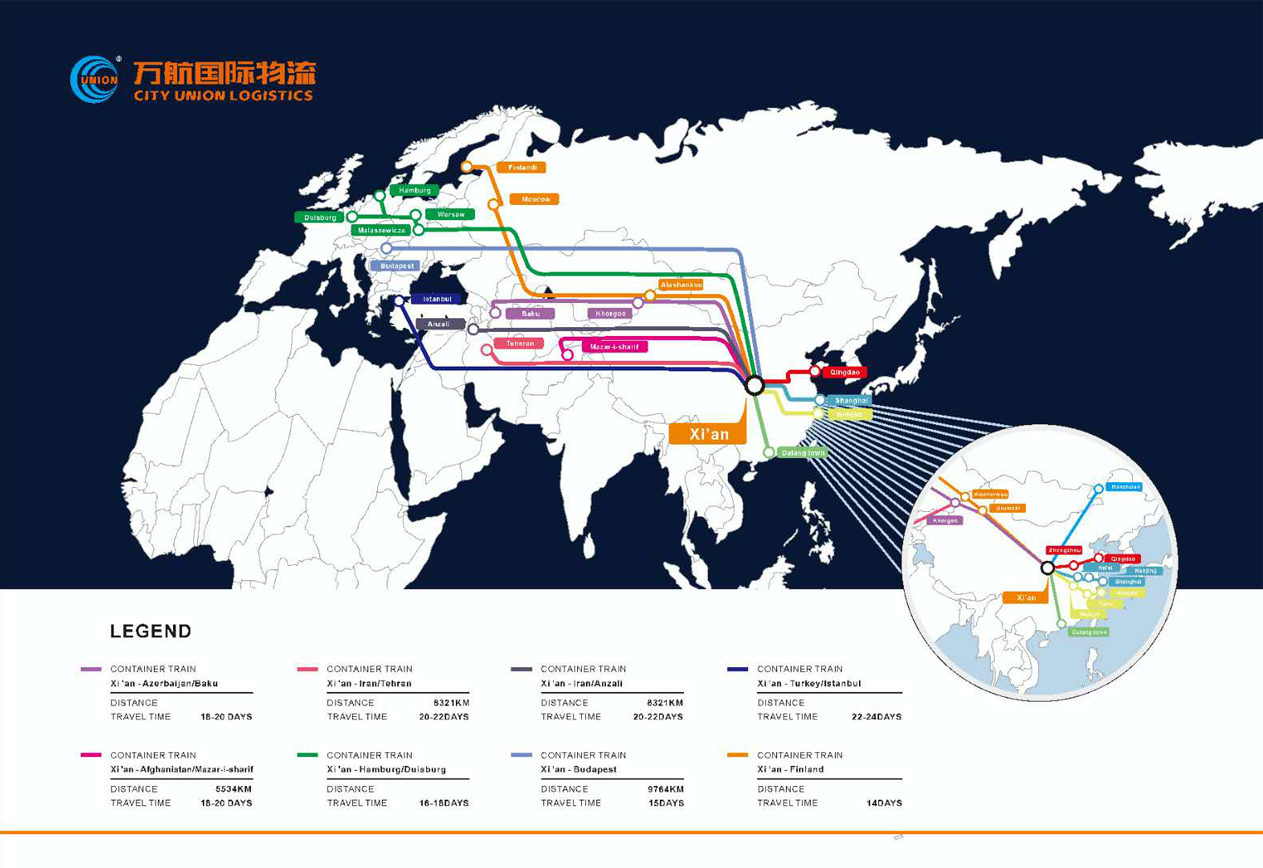 Advantage Lines
Xi'an-Europe Block Train:
Xi'an-Duisburg/Hamburg
Xi'an-Malaszewicze
Xi'an-Budapest
Kouvola-Xi'an
(1) Transit Routes

(2)Transit Schedule
Westbound

Eastbound

Xi'an-Middle East Block Train:
Xi'an - Baku
Xi'an -Tehran
Xi'an - Anzali
Xi'an - Istanbul
Xi'an - Mazar-i-Sharif
(1) Transit Routes

(2)Transit Schedule
Westbound

Product Advantages
(1)Compared to sea and air ,Rail freight has the optimal time and cost.
(2)Adequate container resource to ensure needs; Absorbing wide range of freights.
(3)Provides logistics solution on the whole way -- from the place packing containers to the arrival station customs clearance, delivery, return containers, we can all tailor to your needs.
(4)Rich resources in sea,air and land transport,can customize block train & multimodal solution to your needs.
(5)Overseas team directly subordinate to City Union can deal with all kinds of problems in the operation in time.
Notice
(1)The gross weight of 40'GP shall not exceed 30.48 tons. The gross weight of 20'GP shall not exceed 20 tons.
(2)The 20'GP containers must be paired, with the difference between them is no more than 3 tons in weight.
Contact us